Manufacturer of adjustable LED lamps, LEDRunLights LLC, Manufacturer high power LED light product for General lighting applications. Go to Buy a lamp, or LED Light Product or Build your Lamp
Lamp code B4ZKMSUX4 Surface mount Lamp, Gooseneck LED lamp, Connect the lamp to any surface with 2 screws, Gooseneck / adjustable lamp with black vinyl finish, the lamp operates with Energy Star wall mount power supply, Lamp head made with high power LED, Total height: 24 inches (2 feet), ON-OFF switch, Adjustable flexible tube metal neck (Gooseneck). Gooseneck adjustable arm also available in: 6, 9, 12, 15, 18, and 24 inches or go to Buy a lamp, or Build your Lamp or Contact for quotation.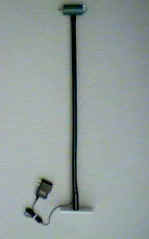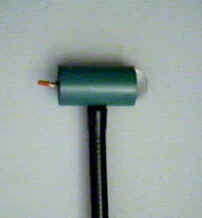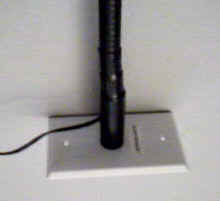 adjustable lamp
Buy a lamp or Click here for more on LED Light Product we are manufacturing
1. LED Lamps with gooseneck adjustable and Spring clip (49 types) Click here to Build your Lamp
2. LED lamps with adjustable Flexible tube and metal neck (50 types). Click here for more.
3. LED for signs, Backlights, channel letter and Traffic signal. LED light products available in colors: Blue, Red, White, Yellow, and Green.
4. LED for General Lighting and Decoration, available with 3, 6, and 9 high power LED's (45 types).
5. LED light products available in colors: Blue, Red, White, Yellow, and Green.
6. Illuminate highway and freeway signs using High power LED product (27 types).
7. Lighting bar for parking Garage: 3 to 12 foot bar with high power LED heads lamp, each head can be with single or double sided light source.
8. Cost-effective traffic signal lamps using LED (light-emitting diodes)
9. Adjustable LED desk lamp, go to Buy a lamp or Click here to Build your Lamp
10. Adjustable LED wall lamp go to Buy a lamp or Click here to Build your Lamp
11. Adjustable LED table lamp go to Buy a lamp or Click here to Build your Lamp
12. Adjustable LED lamp with magnet base go to Buy a lamp or Click here for Magnet Base LED Lamp
lamp-led, walls LED lamp Lighting6lamp magnet4lamp Lamp2wall2flexible, acrylic2lamp, magnet5lamp, Gooseneck4, Buy a lamp, wall mount base LED Lamp, quality, bulb, ledrunlights11, ledinsert, ledrunlights1, ledrunlights2, ledrunlights3, ledrunlights4, ledrunlights5, ledrunlights6, ledrunlights7, ledrunlights8, ledrunlights9, ledrunlights10, ledrunlights12, support, ledinsert2, ledprice2, Gooseneck LED lighting, Light panel , How to connect 3 LED's, How to connect 6 LED's, How to connect 9 LED's or more Part Number and price, Type 569446, Type 569552, Type 569667, Type 569799, Type 569777, LED light, Power supply, Product On Sale, Spring clip led lamp, Parking Garage, LED, Lamps, Build your Lamp, terms, Magnet Base LED Lamp, Angle of the light beam, Signage, signs, Important safety instruction, black gooseneck, two heads, black magnet2lamp, gooseneck2lamps, wall2lamp4, two2gooseneck, magnet4lighting, flexible2lamp, computer, two head, Black1spring1lamp
LED Run Lights- Light Emitting Diode Run Lights