Adjustable LED Lamp
LED Gooseneck lamp Type 569799, Lamp head made with two single head high power LED, the LED lamp operates with wall mount power supply, The 569799 dimension: Gooseneck (Adjustable) arm available in: 6, 9, 12, 15 and 18, Lamp base is 4X4, The lamp available in lighting colors: Blue, Red, White, Yellow, Amber and Green. Typical, the LED lighting is 80 lumens per watts.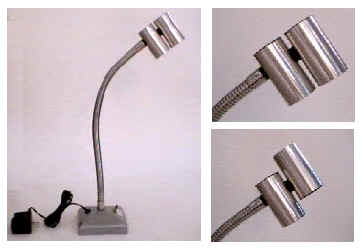 The above lamp can be order with up to 4 single heads
Type 569799-11, Total height: 11 inches, come with 4X4 Base
Type 569799-14, Total height: 14 inches, come with 4X4 Base.
Type 569799-18, Total height: 18 inches, come with 4X4 Base. (Our most popular product)
Type 569799-20, Total height: 20 inches, come with 6X6 Base.
Please contact LEDrunlights for more information, suggestions, and price
ledrunlights11, ledinsert, ledrunlights1, ledrunlights2, ledrunlights3, ledrunlights4, ledrunlights5, ledrunlights6, ledrunlights7, ledrunlights8, ledrunlights9, ledrunlights10, ledrunlights12, support, ledinsert2, ledprice2, Gooseneck LED lighting, Light panel , How to connect 3 LED's, How to connect 6 LED's, How to connect 9 LED's or more Part Number and price, Type 569446, Type 569552, Type 569667 Type 569777 LED light, Power supply, Product On Sale
LED Run Lights- Light Emitting Diode Run Lights